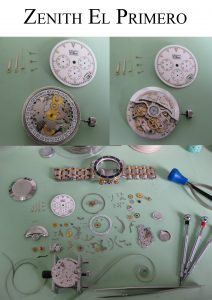 ZENITH EL PRIMERO 'THE LEGEND'
Recently at our workshop a customer brought for servicing a beautiful watch fitted with one of the great movements of the watch making world. The Zenith El Primero movement must be considered to hold an almost legendary status and is one of our particular favorites. During the servicing process we took the oppotunity of taking this image showing the disassembled components. As part of a full service at the Watch Repair Centre your watch is completey disassembled in preperation for its ultra sonic cleaning in our state of the art Greiner ACS900. After drying each components is inspected for damage and any significant wear and tear. We take this oppotunity to identify any component that may need replacing before the reassembly and lubrication procedure begins.
We hope you enjoy the imageshown here taken at the inspection stage of the servicing process just before reassembly and lubrication.